1st Annual Lamphere Dodge Ball Tournament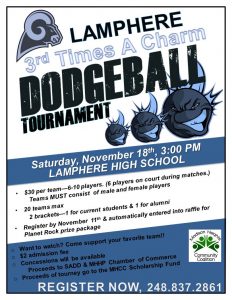 This tournament is open to both current AND past Lamphere students. There will be two brackets–one for cur

rent students and one for the alumni.

The culminating event will be at 5:45 PM where the winner of of both brackets will play to determine the 2017 Lamphere Dodge Ball Champion.

Cost to enter is $30 per team.

Games will be played with 6 players on the court. Teams must consist of both male and females.


Email Kimberly Heisler at MHCC@madison-heights.org or call 248-837-2665 for registration details.